I purchased this vintage library table sight unseen because I love the character of these tables.  I've had this table for a long time and have no idea where I stored the "before" pictures, sorry!  This table has been in various places within my own home serving as everything from an extra Thanksgiving table to a workbench during workshops.
When I got it, it needed a lot of TLC.   It was filthy, beat up, worn down and unloved so it got a thorough cleaning with American Paint Company's Surface Prep/Brush Cleaner to remove all the years of grease and oil.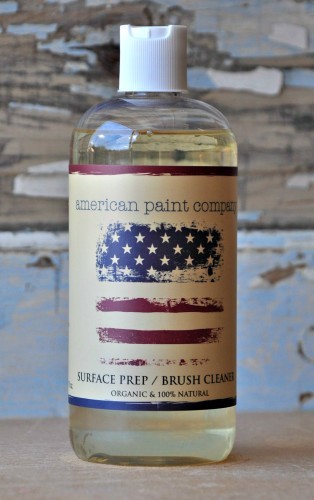 The top was inlaid with leather tiles that were torn beyond repair.  As I ripped them off, there was an uneven coating of whatever glue they adhered it with years ago.  Basically, I had created more of a mess for myself and I wasn't sure how to remedy it.  I couldn't figure out a good solution for filling the void with my limited capabilities so I would have to find some kind of wood planks to cover it.
As luck would have it, Cathy stumbled upon a collapsed barn and we dug through that pile on a hot humid day until we found  the perfect pieces of  barn wood planks for our table.
I sweet-talked our uncle into attaching it to the top of the table and it was on its way to a beautiful transformation.
There was a hole on the back side of the table where there must have been another drawer.  My uncle replaced that entire piece of wood with a new piece then stained the entire table in a deep espresso brown.
I then gave everything a base coat of American Paint Company's Freedom Road and then I pondered what color to finish it with.  I wanted it to primarily be white, but I wanted to switch it up somehow to create something unique.  You know me, gotta have something different yeah?  I layered over most of the gray with Home Plate, a creamy white.
I love the extra charm that the reclaimed barn wood adds
 The carved wooden drawer pulls were covered refinished with American Paint Company's Dark Wax and Pewter Mica Powder.

I loved adding a Little bit O' Bling to this rustic farm table!
I love the contrast of the metallic against the rustic dry-brushing!
What'cha think?
Post courtesy of Shelly